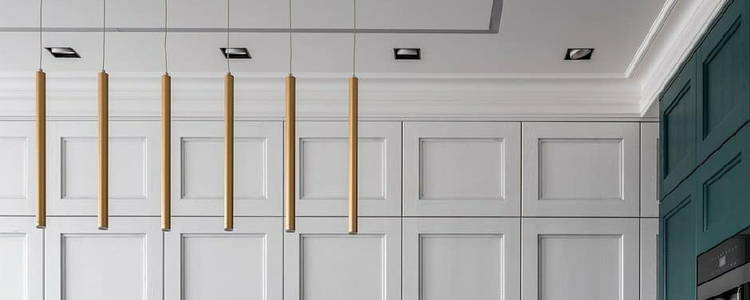 Kitchen lighting is an art, and not something that should be overlooked. The space requires enough light to be able to prepare and cook food, but also needs the perfect lighting to create ambience and atmosphere when hosting guests. Browse our hand-picked selection of beautiful interior kitchen lighting, taking inspiration for your home.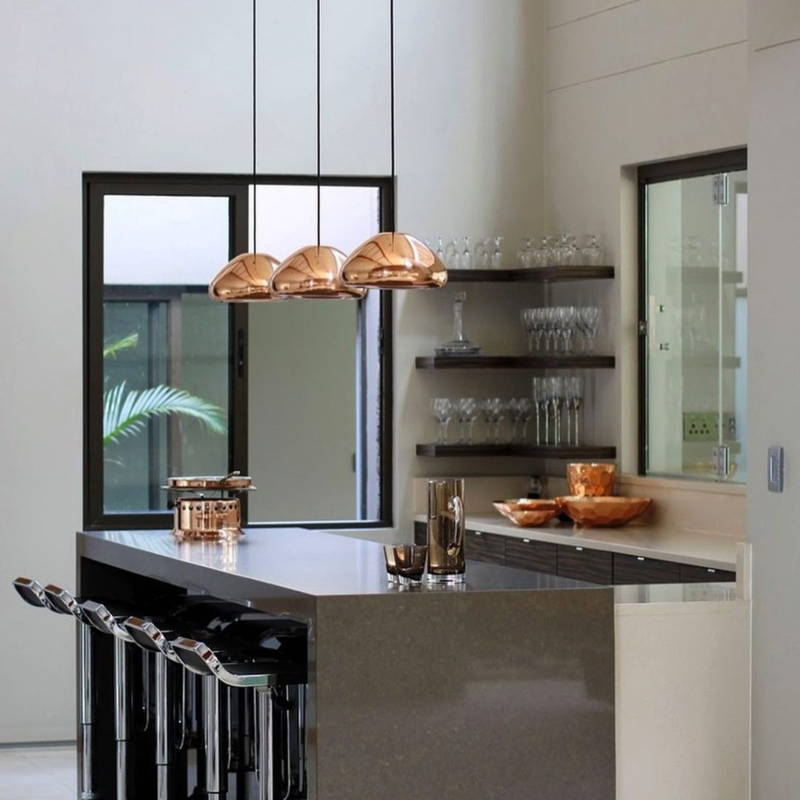 Browse our range of high quality kitchen pendant lights to create the perfect ambience in your home.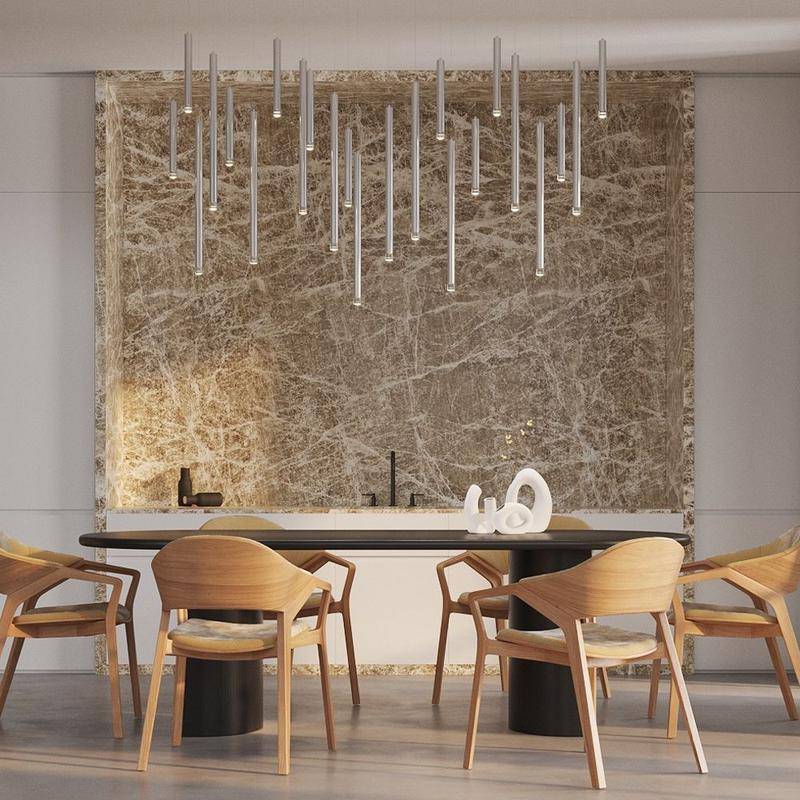 Our kitchen ceiling lights provide the perfect solution whether you're hosting or enjoying an evening to yourself.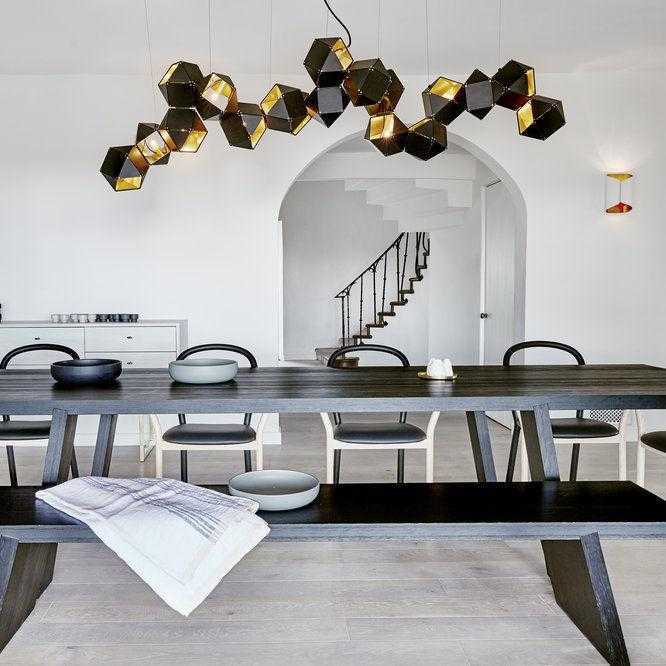 Discover our impressive selection of premium kitchen chandeliers, bound to turn heads.
1. Points to consider when designing kitchen lighting
Good kitchen lighting needs at least two elements; bright, shadow-free light for safe cooking and preparation, and atmospheric illumination to create mood, highlight architectural features and make the room feel less clinical.
A versatile lighting scheme is a must-have for today's multifunctional kitchen. Here are four useful tips to help you get planning;
Include lighting design at the room planning stage
Think about how you want your kitchen to look and feel like in terms of lighting, while you are also planning the obvious layout and cupboard design. This will ensure you are not limited with the possibilities of lighting options. Once the kitchen drawings are signed off it will be extra hassle and delay the project while the plan is redrawn to accommodate electrical details, and you may have to compromise lighting choices to avoid re-planning the kitchen from scratch.
The right lighting can totally transform the space, making small kitchens feel larger, creating well-lit spaces for focus tasks like slicing and dicing and a relaxing ambiance for tucking into your meals! With levels of brightness dramatically altering mood it's important to invest in a scheme that will work for you and your family.
If you are not sure how to design the lighting for your kitchen, have a look at our Lighting design plan guide where we take you through all the steps.
What purposes will your kitchen would have
In many homes a kitchen isn't just a place for cooking. It's also a dining room, family room, a place for entertaining, even an office. So give yourself plenty of options for different atmospheres and activities – e.g. practical task lighting for cooking and working and softer mood lighting for dinner parties. Look at multiple light sources rather than relying on a single main overhead light to cover all functions.
It's tempting to think that a pendant light over a work surface solves the issue of task lighting, but don't forget that if you're chopping or frying directly below a single low-hanging pendant your body will block the overhead light and you will end up working in your own shadow! Look at positioning lights to shine into the area rather than the spotlight above in this instance.
Take control of your kitchen lighting scheme
With so many different light sources at your disposal, and with different functions to cater for, it can help to consider a flexible control system rather than a simple on/off switch. If possible, make sure your lights are controlled separately so you can easily create different moods and get the lighting you need in the moment.
To create relaxing mood-lighting try wall lights and washers, which add a subtle background illumination. For high ceilings uplights on top of kitchen cabinets enhance the general light while reducing the number of downlights otherwise needed.
2. What's trending in kitchen lighting?
When looking at the trends in lighting the first thing to remember is that the primary function of a kitchen is likely to still be cooking, although these rooms increasingly serve as one of the main congregation spaces in the home! A versatile lighting scheme is beneficial for today's multifunctional kitchen.
Cleverly concealed lighting not only enhances the features within the room but creates the atmosphere and drama by adding another dimension.
Lighting coming from all angles creates a wow factor. Layered lighting can be a combination of downlight, uplight and linear lighting.
Decorative lighting still plays a key role in adding a softer dimension to the hard lines of a kitchen. In a room with a high ceiling you can create a more intimate feeling, when dining or congregating around a kitchen bar, with stylish drop pendants. Visually it is always more pleasing to use a run of odd, rather than even number of drop lights, and you can play with a variety of heights for added interest.
Downlights - make it functional
Downlights will enhance the finish and textures of your kitchen units and work tops. Avoid placing it in a grid but in a position where you need the light. Square Double downlights are great for providing ample lighting over kitchen islands.
Feature Pieces - Mid-Century Modern and Art Deco are making a comeback
Art Deco is a very artistic style of lighting from the 1920 and '30s which is being re-visited for modern homes. This style works with sharp, chean lines and often features an attractive geometric design. With Mid-Century modern lighting however you will notice more natural shapes that combine functional form and aesthetics.
Overhead Art Deco fixtures are especially good at adding polished lines to a space. The 2021 Mid-Century lighting trend falls more towards fun and laid back. Use it to add an informal, artful feel to a space. We have created our own range of modern nostalgia with the globe and lava collection.
Incandescent bulbs are very wasteful as most of the power is wasted in the form of heat. This is why there has been a big push to change to more efficient and environmentally friendly forms of lighting. Lots of homeowners are moving to LED lighting for its money and power saving properties. Not only extremely safe they are also far more efficient and longer lasting than incandescent bulbs.
Another advantage of LED lighting is the variety of styles available. LED lamps come in multiple colors, brightness and shapes and are a great choice when you need a unique design for your home. At ilite all our lightings are LED; a big tick for the environment and creating stylish, safe homes.
For certain areas of the house trend forecasts show a love for bigger fixtures. The aim is to create a "Wow" factor and attract instant attention. More than lighting, these fixtures act as centerpieces. Some come with ornate designs that focus all the attention on the fixture while others work with the space to create a cohesive visual, such as large pendant lighting over a kitchen island or sofa. Other popular areas to highlight with a large feature light are over dining tables, a centerpiece in the foyer or unique lighting for outdoor footpaths.
Using larger fixtures requires a little more care. For best results use in a central area where it can have the maximum effect. Balance the main feature with smaller fixtures around the room to balance the look.
Do not feel any pressure to choose a specific trend or style! The best lighting design is one that you love and which will work in your home. The above trends can be used to provide inspiration and give ideas that can be implemented when designing your home lighting. Ultimately your home needs to reflect your taste to ensure it's appropriate for your lifestyle and create an area you feel at home in.
3. What is the best lighting for a small kitchen?
Lighting can totally transform small kitchens, and make a significant impact on aesthetics and functionality. The effects of lighting are even greater in small kitchens, where things are close together and slight changes in the light can create either more shadow or glare. The right lighting makes any kitchen feel bright and airy and creates a beautiful and functional workspace. It's especially important in small kitchens to prevent shadows and give the illusion of more room. The best kitchen lighting will significantly improve the appearance of the countertops, cabinets and accessories but ultimately the use-friendliness of the space.
Different lights will lend themselves to certain design styles and floor plans. For example, a galley kitchen is very different from an open concept space, so the best lighting will be unique to those spaces. Here are some specific kitchen design styles that can help you decide which fixtures will work for your home.
While a galley kitchen is a very efficient use of space, it can run the risk of feeling cramped when there isn't adequate light. The right mix of ambient, accent and task lighting can open up the space and create a pleasant, open atmosphere. Use ceiling lights along the whole length of the kitchen for adequate ambient light and dispel shadows in the corners. Track lighting or a series of pendant lights are both good options. It's vital to ensure adequate lighting on galley kitchen work surfaces, which are often shaded beneath cabinets so we recommend installing lighting under cabinets which create a beautiful but functional glow over your countertops, sink and cooker.
Finally, add style to your galley kitchen with accent lighting. Rope lights along the top of wall cabinets make the ceiling feel higher and adds visual interest. Use accent lights to draw the attention to attractive features of the kitchen and to add a feeling of depth to broaden the space.
An L-shaped kitchen is likely to have a source of natural light from a window, or ambient light spilling in from adjacent areas of the home. It's important to adequately light the corner of the darker end of the L so it isn't constantly in shadow. Lighting should draw you further into the kitchen. Consider adding an art piece illuminated by accent lighting to brighten a perpetually dim corner. Recessed lighting works well in the ceiling, and adding above-cabinet lighting can also help brighten up corners. Many L-shaped kitchens have an island or breakfast table on the open side. This is the ideal spot to add accent lighting that will create a focal point at the widest part of the kitchen. You'll also get the benefit of a brighter light essential when you're working at the island or enjoying a meal at the table. Chandeliers or multi-light pendants are both smart options here.
Chances are the kitchen in an open plan home has a good amount of ambient light from windows and other areas of the property. The challenge with an open plan is making the kitchen feel like a defined space. First consider the ambient lighting and make sure it moves consistently throughout the floor plan. Add recessed lights in the kitchen and adjacent dining or great rooms,then use decorative accent and task lighting to define the space in the kitchen. Mini-pendants can work well above a sink or island. Anchor the space with a large fixture in the center of the kitchen and then add under cabinet task lighting around the exterior. It's important to choose decorative fixtures with the rest of the open floor plan in mind. Either go with a similar fixture style throughout the whole floor or choose something unique to differentiate each area.
Ultimately, embrace the radiance of natural light and add artificial light where necessary. Create interest and functionality with layers of light using ambient, accent and task lighting. Decorative fixtures add extra light and accentuate the surrounding decor. Take into account your home's unique floor plan, and utilize specifically-constructed kitchen lighting designs to suit the space you are working withFinally, enjoy the beautiful ambiance you have created in your home!